No Title
[[|250px]]
Sheen in 2008

No Title

No information
Ramón Estévez, (born August 3, 1940) better known by his stage name Martin Sheen,[1] is an actor best known for his performances as Captain Willard in the film Apocalypse Now and President Josiah Bartlet on the television series The West Wing. He has worked for some of cinema's most prominent directors, including Martin Scorsese, Steven Spielberg, Oliver Stone, Richard Attenborough, Terrence Malick and Mike Nichols.
As well as the critical acclaim he has received as an actor, he has become known as an activist.[2][3] Born and raised in Ohio, United States, with Irish and Spanish parents, Sheen is also an Irish citizen.
He is the father of actors Carlos Irwin Estévez (Charlie Sheen), Emilio Estévez, Ramón Estévez and Renée Estévez, and is brother of the actor Joe Estevez.
Early life
Edit
Sheen was born in Dayton, Ohio, the son of Mary Ann (née Phelan), an immigrant from Borrisokane, County Tipperary, Ireland, and Francisco Estévez, a factory worker/machinery inspector from Parderrubias, Galicia, Spain, near the border of northern Portugal.[3] Sheen's mother fought in the Irish War of Independence due to her family's connections to the Irish Republican Army. Sheen adopted his stage name in honor of the Catholic archbishop and theologian, Fulton J. Sheen.[3] Sheen lived on Brown Street in the South Park neighborhood, and was one of 10 siblings (nine boys and one girl).[3] One of his brothers is actor Joe Estévez. He attended Chaminade High School (now Chaminade Julienne Catholic High School) and was raised as a Roman Catholic.[3]
During the 1930s, his family lived in Bermuda, where Sheen's father was a representative of IBM, selling cash registers and early computing and copying equipment to businesses and to the U.S. Air Force.[4] The family lived on St. John's Road, Pembroke, just outside Hamilton and Sheen and his siblings attended the Mount Saint Agnes school, an institution operated by the Sisters Of Charity, a religious order of the Roman Catholic Church. Sheen was the first of the ten Estevez children who was not born in either Bermuda or Ireland.[5]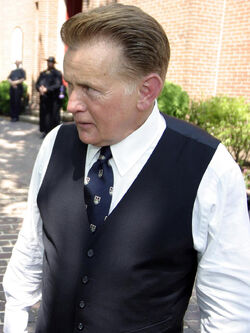 Sheen was drawn to acting at a young age, but his father disapproved of his interest in the field. Despite his father's opposition, Sheen borrowed money from a Catholic priest and headed to New York City. It was there that he met the legendary Catholic activist Dorothy Day. It was working with her Catholic Worker movement that began his commitment to social justice.[3][6] At age 14, he organized a strike of golf caddies while working at a private golf club in Dayton Ohio. He complained about the golfers: "they often used obscene language in front of us....we were little boys and they were abusive... anti-Semitic ... racist. And they, for the most part, were upstanding members of the community." [7] While Sheen claims he deliberately failed the entrance exam for the University of Dayton so that he could pursue his acting career, he still has an affinity for UD, and is seen drinking from a "Dayton Flyers" coffee mug during several episodes of The West Wing. He also has a great affinity for the University of Notre Dame and in 2008 was awarded the Laetare Medal,[8] the highest honor bestowed on American Catholics, in May 2008 at the school's commencement. Sheen has said that he was greatly influenced by the actor James Dean.[3] He developed a theater company with other actors in hopes that a production would earn him recognition. In 1963, he made an appearance in Nightmare, an episode of the television science fiction series The Outer Limits. The following year, he starred in the Broadway play The Subject Was Roses, which he recreated in the 1968 film of the same name. In 1969 "Live Bait" (Mission Impossible) 3rd season of the TV series, played Albert, assistant to the Col. interrogating an America Agent that IM was tasked to free. Sheen was a co-star in the controversial, Emmy-winning 1972 television movie That Certain Summer, said to be the first television movie to portray homosexuality in a sympathetic, non-judgmental light. His next important feature film role was in 1973, when he starred with Sissy Spacek in the crime drama Badlands - which he has said in many interviews is his best film.[3][9]
In 1974, Sheen portrayed a hot rod driver in the TV movie The California Kid, and that same year received an Emmy Award nomination for Best Actor in a television drama for his portrayal of Pvt. Eddie Slovik in the made-for-television film, The Execution of Private Slovik.[3] Based on an incident that occurred during World War II, the film told the story of the only U.S. soldier to be executed for desertion since the American Civil War. It was Sheen's performance in this film that ultimately led to Francis Ford Coppola choosing him for a starring role in 1979's Apocalypse Now, a film that gained him wide recognition. Sheen admitted that during filming, he was not in the greatest shape and was drinking heavily.[3] On location, he had a heart attack and crawled out to a road for help.[3] After his heart attack, his younger brother Joe Estevez stood in for him in a number of long shots and in some of the voice-overs.
Sheen has performed voice-over work as the narrator for the Eyewitness series.
Sheen recently went to Mexico City to star in "Chamaco" with Kirk Harris, Alex Perea, Gustavo Sanchez Parra and Michael Madsen.
Currently, Sheen is in Spain shooting the film The Way , a story about Camino de Santiago and directed by his son, Emilio Estevez .[1]
NUI Galway
Edit
After the end of filming of The West Wing, Sheen announced plans to further his education: "My plan is to read English literature, philosophy and theology in Galway, Republic of Ireland, where my late mother came from and where I'm also a citizen".[10] Speaking after an honorary arts doctorate was conferred on him by the National University of Ireland, Sheen joked that he would be the "oldest undergraduate" at the National University of Ireland (NUI), Galway when he started his full-time studies there in the autumn of 2006. Although expressing concern that he might be a "distraction" to other students at NUIG, he attended lectures like everyone else. Speaking the week after filming his last episode of The West Wing, he said, "I'm very serious about it." He once said, "I never went to college when I was young and am looking forward to giving it a try... at age 65!"[11] On September 1, 2006, Sheen was among the first to register as a student at NUI Galway.[12] He left the University after completing a semester.
Political activism
Edit
Martin Sheen is no stranger to politics, both as an actor and in real life. He has played U.S. President John F. Kennedy (in the miniseries Kennedy — The Presidential Years), Attorney General Robert Kennedy in the television special The Missiles of October, White House Chief of Staff A.J. McInnerney in The American President, sinister future president Greg Stillson in The Dead Zone, and fictional Democratic president Jed Bartlet in the acclaimed television drama The West Wing.[3]
Although he did not attend college, Sheen credited the Marianists at University of Dayton as a major influence on his public activism. Sheen is known for his robust support of liberal political causes, such as opposition to United States military actions and a toxic-waste incinerator in East Liverpool, Ohio. Sheen has resisted calls to run for office, saying: "There's no way that I could be the president. You can't have a pacifist in the White House ... I'm an actor. This is what I do for a living."[13] Sheen is an honorary trustee of the Dayton International Peace Museum.
He supported the 1965 farm worker movement with Cesar Chavez in Delano, California. He is a proponent of the Consistent Life ethic, which advocates against abortion, capital punishment and war.[14] He also supports the Democrats for Life of America's Pregnant Women Support Act.[15] In 2004, along with fellow actor Rob Reiner, Sheen campaigned for Democratic presidential candidate Howard Dean. He later campaigned for nominee John Kerry.
On May 16, 1995, Martin Sheen and Paul Watson from the non-profit environmental organization, Sea Shepherd, were confronted by a number of Canadian sealers in a hotel on Magdalen Islands over Sea Shepherd's history of attacks on sealing and whaling ships. Sheen negotiated with the sealers while Watson was escorted to the airport by police.[16] In early 2003, Sheen signed the "Not in My Name" declaration opposing the invasion of Iraq (along with prominent figures such as Noam Chomsky and Susan Sarandon); the declaration appeared in the magazine The Nation. On August 28, 2005, he visited anti-Iraq War activist Cindy Sheehan at Camp Casey. He prayed with her and spoke to her supporters. He began his remarks by stating, "At least you've got the acting President of the United States," referring to his role as fictional President Josiah Bartlet on The West Wing.[17] Cindy Sheehan had been demanding a second meeting[18] with the President, George W. Bush.
Sheen endorsed marches and walkouts called by the civil rights group, By Any Means Necessary (BAMN), to force the state of California to honor the Cesar Chavez holiday. On March 30, the day of the protests, thousands of students, primarily Latino from California and elsewhere, walked out of school in support of the demand. Sheen also stated that he participated in the massive immigration marches in Los Angeles in 2006 and 2007.[19][20]
On April 10, 2006, the New York Times reported that members of the Democratic Party in Ohio had contacted Sheen, attempting to persuade him to run for the U.S. Senate in Ohio. Sheen declined the offer, stating that "I'm just not qualified," he said. "You're mistaking celebrity for credibility."[21] On November 26, 2006, the Sunday Times in the Republic of Ireland, where Sheen was then living due to his enrolment in NUI Galway, reported on him speaking out against mushroom farmers exploiting foreign workers by paying them as little as €2.50 an hour in a country where the minimum wage was €7.65.
On April 1, 2007, Sheen was arrested, with 38 other activists, for trespassing at the Nevada Test Site at a Nevada Desert Experience event protesting the Nevada Test Site.[22]
His latest activism includes several attendances at meetings of the environmentalist group Earth First!.[23] Sheen has also endorsed and supported Help Darfur Now, a student run organization to help aid the victims of the genocide in Darfur, the western region in Sudan.
Sheen has appeared in television and radio ads urging Washington State residents to vote no on Initiative 1000, a proposed assisted suicide law before voters in the 2008 election.[24]
Sheen initially endorsed New Mexico Governor Bill Richardson in the 2008 US Presidential Election, and helped raise funds for his campaign.[25] After Richardson had dropped out of the campaign, Sheen stated in a BBC Two interview that he was supporting Barack Obama.[21]
Personal life
Edit
Sheen married art student Janet Templeton on December 23, 1961, and they have four children, three sons and a daughter, all of whom are actors: Emilio, Ramón, Carlos (better known as Charlie Sheen) and Renée.[3] Sheen became a grandfather at age 43 when his son, Emilio, had a son named Taylor Levi with his girlfriend, Carey Salley. As well as Taylor Levi, Sheen has six other grandchildren, Paloma Rae, (From Emilio) Cassandra, Sam J, Lola Rose, Bob and Max (from Charlie). Sheen is a devout Roman Catholic.
Sheen starred in the Vietnam war film Apocalypse Now, and his son, Charlie Sheen, also starred in a film about Vietnam: Platoon. Charlie Sheen once stated that he wanted to star in a film similar to one his father was in because he wanted to know what it feels like. They jointly parodied their respective previous roles in the 1993 movie Hot Shots Part Deux: their river patrol boats passed each other, at which point they both shouted, "I loved you in Wall Street!", a film they both starred in as father and son in 1987.
In the Spring of 1989, Sheen was named Honorary Mayor of Malibu, California. He promptly marked his appointment with a decree proclaiming the area "a nuclear-free zone, a sanctuary for aliens and the homeless, and a protected environment for all life, wild and tame".[26] Some local citizens were angered by the decree, and the Malibu Chamber of Commerce met in June of that year to consider revoking his title, but voted unanimously to retain him.[27]
Sheen has limited lateral movement of his left arm, which is three inches shorter than his right, due to its being crushed by forceps during his birth.[28] This restricts him from putting on a coat in the typical manner; instead, he flips it up and over his head from the front, as clearly demonstrated throughout the run of The West Wing.
He has played the father of sons Emilio Estevez and Charlie Sheen in various projects: he played Emilio's father in The War at Home and In the Custody of Strangers, and Charlie's father in Wall Street, No Code of Conduct, and two episodes of Spin City. He also appeared as a guest star in one episode of Two and a Half Men playing the father of Charlie's neighbor Rose (Melanie Lynskey), and another as guest star Denise Richards' father; at the time that episode aired, Richards was still married to Charlie. Martin also played a "future" version of Charlie in a VISA TV commercial. Martin has played other characters with his sons and his daughter.
Sheen is also an activist for labor rights, specifically farm workers. Martin Sheen suffered a heart attack aged 38 while filming 'Apocalypse Now'. [29]
Sheen received six Emmy nominations for Outstanding Lead Actor in a Drama Series for his performance on The West Wing, for which he won a Golden Globe for Best Performance by an Actor in TV-Drama, as well as two SAG Awards for Outstanding Performance by a Male Actor in a Drama Series, and was part of the cast that received two SAG Awards for Outstanding Performance by an Ensemble in a Drama Series.
In his acting career, Sheen has been nominated for ten Emmy Awards, winning one. He has also earned eight nominations for Golden Globe Awards. Sheen has a star on the Hollywood Walk of Fame, at 1500 Vine Street.[30]
Sheen was the 2008 recipient of the Laetare Medal, an annual award given by the University of Notre Dame for outstanding service to the Roman Catholic Church and society.
Sheen was the 2003 recipient of the Marquette University Degree of Doctor of Letters, honoris causa for his work on social and Catholic issues.
Filmography
Edit
Year
Film
Role
Director
1967
The Incident
Artie Connors
Larry Peerce
1968
The Subject Was Roses
Timmy Cleary
Ulu Grosbard
1970
Catch-22
1st Lt. Dobbs
Mike Nichols
1972
No Drums, No Bugles
Ashby Gatrell
Clyde Ware
Pickup on 101
Les
John Florea
Rage
Maj. Holliford
George C. Scott
That Certain Summer
Gary McClain
Lamont Johnson
1973
When the Line Goes Through
Bluff Jackson
Clyde Ware
Badlands
Kit Carruthers
Terrence Malick
Catholics
Father Kinsella
Jack Gold
1974
The Legend of Earl Durand
Luther Sykes
John Patterson
The California Kid
Michael McCord
Richard T. Heffron
The Missiles of October
Robert F. Kennedy
Anthony Page
1975
The Last Survivors
Alexander William Holmes
Lee H. Katzin
Sweet Hostage
Leonard Hatch
Lee Phillips
1976
The Cassandra Crossing
Robby Navarro
George P. Cosmatos
The Little Girl Who Lives Down the Lane
Frank Hallet
Nicolas Gessner
1977
The Execution of Private Slovik
Eddie Slovik
Lamont Johnson
1979
Apocalypse Now
Captain Benjamin L. Willard
Francis Ford Coppola
Eagle's Wing
Pike
Anthony Harvey
1980
The Final Countdown
Warren Lasky
Don Taylor
1981
Loophole
Stephen Booker
John Quested
1982
Gandhi
Vince Walker
Richard Attenborough
That Championship Season
Tom Daley
Jason Miller
In the Custody of Strangers
Frank
Robert Greenwald
1983
Enigma
Alex Holbeck
Jeannot Szwarc
In the King of Prussia
Judge Samuel Salus II
Emile de Antonio
Man, Woman and Child
Robert Beckwith
Dick Richards
The Dead Zone
Greg Stillson
David Cronenberg
1984
Firestarter
Captain Hollister
Mark L. Lester
1985
The Fourth Wise Man
Artaban
Michael Ray Rhodes
1986
A State of Emergency
Dr. Alex Carmody
Richard C. Bennett
Shattered Spirits
Lyle Mollencamp
Robert Greenwald
1987
The Believers
Cal Jamison
John Schlesinger
Siesta
Del
Mary Lambert
Wall Street
Carl Fox
Oliver Stone
1988
Da
Charlie
Matt Clark
Judgment in Berlin
Herbert Jay Stern
Leo Penn
1989
Marked for Murder
Man in park
Rick Sloane
Cold Front
John Hyde
Allan A. Goldstein
Beverly Hills Brats
Dr. Jeffrey Miller
Jim Sotos
Nightbreaker
Dr. Alexander Brown
Peter Markle
Beyond the Stars
Paul Andrews
David Saperstein
1990
Cadence
MSgt. Otis V. McKinney
Martin Sheen
1991
Touch and Die
Frank
Piernico Solinas
The Maid
Anthony Wayne
Ian Toynton
JFK
Narrator
Oliver Stone
1992
Running Wild
Dan Walker
Duncan McLachlan
Original Intent
Joe
Robert Marcarelli
1993
When the Bough Breaks
Captain Swaggert
Michael Cohn
My Home, My Prison
Narrator
Susana Blaustein Muñoz
Ghost Brigade (aka The Killing Box)
Gen. Haworth
George Hickenlooper
Fortunes of War
Francis Labeck
Thierry Notz
Hear No Evil
Lt. Brock
Robert Greenwald
Hot Shots! Part Deux
Capt. Benjamin L. Willard
Jim Abrahams
Gettysburg
Robert E. Lee
Ronald F. Maxwell
A Matter of Justice
Jack Brown
Michael Switzer
1994
Guns of Honor
Jackson Baines Hardin
David Lister
Hits!
Kelly
William R. Greenblatt
Grey Knight
General
George Hickenlooper
Boca
Jesse James Montgomery
Walter Avancini, Zalman King
1995
The American President
Chief of Staff A.J. McInnerney
Rob Reiner
Sacred Cargo
Father Andrew Kanvesky
Aleksandr Buravsky
Dillinger and Capone
John Dillinger
Jon Purdy
Captain Nuke and the Bomber Boys
Jeff Snyder
Charles Gale
A Hundred and One Nights of Simon Cinema
Himself
Agnès Varda
The Break
Gil Robbins
Lee H. Katzin
Dead Presidents
The Judge
Albert Hughes, Allen Hughes
Gospa
father Jozo Zovko
Jakov Sedlar
1996
The War at Home
Bob Collier
Emilio Estevez
Entertaining Angels: The Dorothy Day Story
Peter Maurin
Michael Ray Rhodes
1997
Truth or Consequences, N.M
Sir
Kiefer Sutherland
An Act of Conscience
Narrator
Robbie Leppzer
Spawn
Jason Wynn
Mark A.Z. Dippé
1998
Family Attraction
President
Brian Hecker
Stranger in the Kingdom
Sigurd Moulton
Jay Craven
Gunfighter
The Stranger
Christopher Coppola
Monument Ave. (aka Snitch)
Hanlon
Ted Demme
Shadrach
Narrator
Susanna Styron
A Letter from Death Row
Michael's Father
Marvin Baker, Bret Michaels
Free Money
New Warden
Yves Simoneau
No Code of Conduct
Bill Peterson
Bret Michaels
1999
Ninth Street
Father Frank
Tim Rebman, Kevin Willmott
Lost & Found
Millstone
Jeff Pollack
Storm
General James Roberts
Harris Done
A Texas Funeral
Grandpa Sparta
W. Blake Herron
2001
O
Coach Duke Goulding
Tim Blake Nelson
2002
Catch Me if You Can
Roger Strong
Steven Spielberg
2003
Mercy of the Sea
Frederik
Dominik Sedlar, Jakov Sedlar
The Commission
Dep. Atty. Gen. Nicholas Katzenbach
Mark Sobel
2004
Jerusalemski sindrom
Dominik Sedlar, Jakov Sedlar
2006
The Departed
Capt. Oliver "Charlie" Queenan
Martin Scorsese
Bobby
Jack Stevens
Emilio Estevez
2007
Talk To Me
E.G. Sonderling
Kasi Lemmons
Bordertown
George Morgan
Gregory Nava
Flatland: The Movie
Arthur Square
Dano Johnson, Jeffrey Travis
2008
A Single Woman
voice
Kamala Lopez
2009
Echelon Conspiracy
Raymond Burke
Greg Marcks
Love Happens
Burke's Father-in-Law
Brandon Camp
Bhopal: Prayer for Rain
Warren Anderson
Ravi Kumar
Documentaries
Edit
Television and video
Edit
References
Edit
External links
Edit
Template:Commons |Name:Connor
|Occupation:United States Marine Corps Captain Strongman
Template:EmmyAward ComedyGuestActor 1976-2000 Template:GoldenGlobeBestActorTVDrama 1990-2009 Template:ScreenActorsGuildAward MaleTVDrama 1994-2009ar:مارتن شين bg:Мартин Шийн cs:Martin Sheen da:Martin Sheen de:Martin Sheen et:Martin Sheen es:Martin Sheen eo:Martin Sheen fr:Martin Sheen ga:Martin Sheen gl:Martin Sheen hr:Martin Sheen id:Martin Sheen it:Martin Sheen he:מרטין שין la:Martinus Sheen mr:मार्टिन शीन nl:Martin Sheen ja:マーティン・シーン no:Martin Sheen pl:Martin Sheen pt:Martin Sheen ro:Martin Sheen ru:Мартин Шин simple:Martin Sheen sr:Мартин Шин sh:Martin Sheen fi:Martin Sheen sv:Martin Sheen tr:Martin Sheen zh:馬田·辛